A few weeks ago, the Mister and I decided that we needed to implement a workout regime into our lives.
Both of us have taken a few health blows in the past couple of months.
The Mister has high cholesterol, high triglycerides, elevating blood pressure, pre-diabetic glucose levels, and a major freaking out wife because her own father, afflicted with all of those things, passed away at the very young age of 42.
I don't have any of those things, thankfully. HOWEVER, in the past 5 months of minimal working out, I have developed:
* a flabby stomach I no longer recognize as my own
when I look in the mirror.

* Ripply Thighs.
Notice I said "ripply" and not "ripped."
Not that my thighs have ever been ripped!
However, they just have never dived into the deep end
of the Jell-O gene pool before.

* Boobs that are now migrating to my back.
I won't go into detail.

* A chin that is developing
a Multiple Personality Disorder.

Not that having these things makes me a lesser person; it's just that I'm not ready to have them just yet.
Of course, we live in Wisconsin, which means that winter is not anywhere near its finish line just yet. I don't enjoy trying to not slip and kill myself while running in snow/ice/slush. And while we could get a gym membership, neither one of us wanted the expense and in all reality, I will get up at 5 am to row in my basement, but I will not get up at 5 am to go outside in 10 degree weather to drive to the Y.
Soooooo, to make this long story even longer, the Mister and I decide to order this home workout:
Insanity.
NOT that we buy into the gimmicks and think that we are even going to remotely look like any of these paid models. We don't.
However, the benefits were:
1) we don't need any equipment;
2) it's incredible cardio/weight resistance training which will hopefully help our running;
and 3) it's all there for you--the plan, the videos, the eating program (which is whole food-based and easily vegetarian. I REFUSE to try any South Beach / Atkins/ Gimmicky crap. Don't get me started on high protein/low carb diets and the dangers associated with them! And that's my soapbox for the day.)
We began this arse-kicking on Sunday. We quickly learned that they call it Insanity for a reason. Many reasons, actually. On the first day we had to take the Fitness Test. Which is where you see how many of certain exercises you can do it 1 minute.
So what if I could only do 2 Suicide Push Ups in 1 minute? I'm trying not to let it affect my ego. They're called Suicide, after all, right? Because hey! If I can do 6 by the end of the 60 days, that's a 200% improvement.
It's all about how you present the facts, baby ;)
So far, so good, though. If you can say that living in complete physical agony is good. But in this case, I think it is.
Although we have had to reign in our participation in Christine's 2010 Sex-periment Challenge because we have yet to find a position which allots for Thigh Muscle Paralysis and our inability to move our torsos without crying.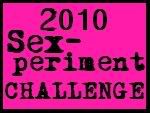 Have you looked at this challenge? You should, because it works wonders, both for yourself and your marriage. And it's fun. And it's crappy weather and what else are you going to do?